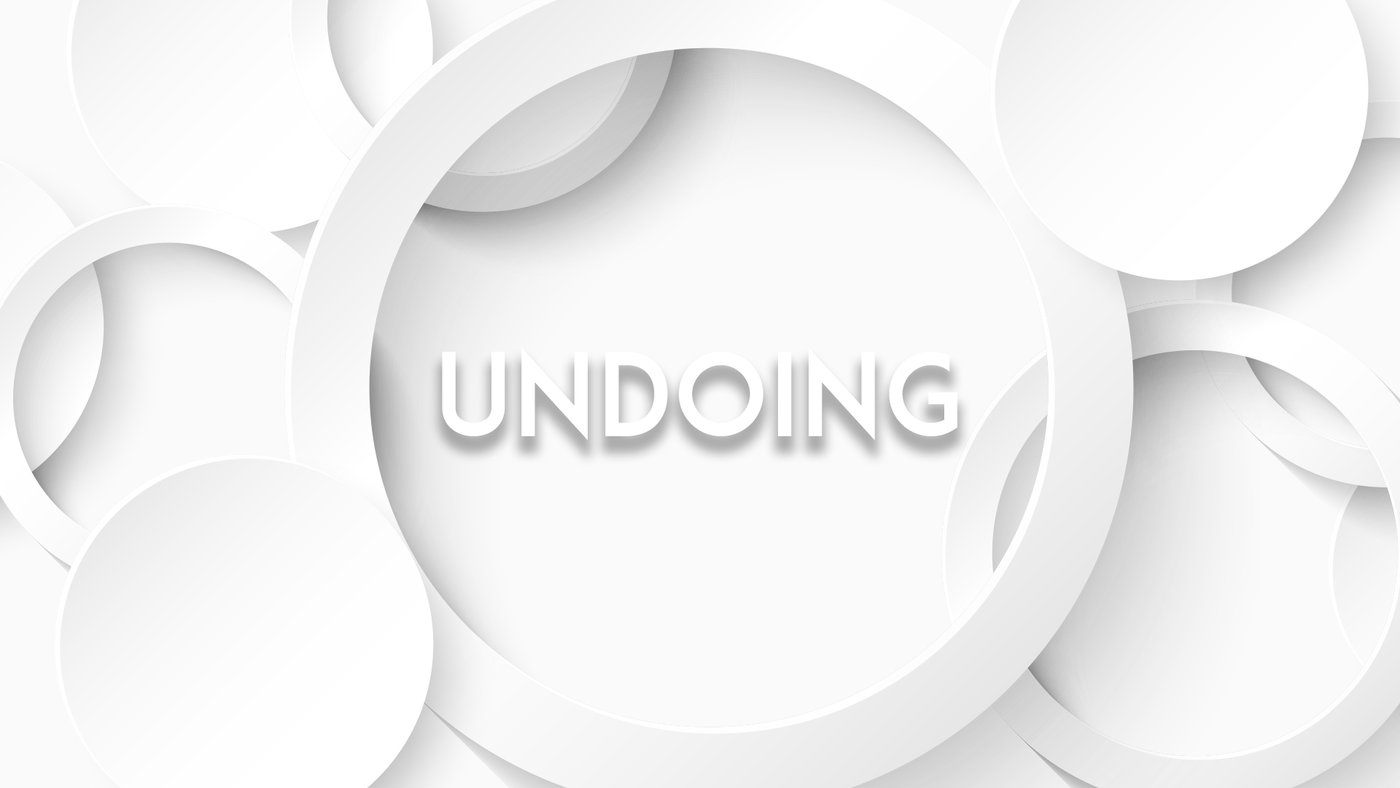 Undoing
Part 1
Dr. Jason Kennedy
1/10/21
Why are we here on this earth?
What is our calling?
Calling is this, that we receive and live the love of God for us and for the world.
1 Corinthians 15:58; Luke 9:57–62; Luke 18:18–23 Luke 9:1-6;10; Luke 9:23–25
I Corinthians 15:58
58 Therefore, my beloved brothers, be steadfast, immovable, always abounding in the work of the Lord, knowing that in the Lord your labor is not in vain.
Luke 9:57–62
As they were going along the road, someone said to him, "I will follow you wherever you go." 58 And Jesus said to him, "Foxes have holes, and birds of the air have nests, but the Son of Man has nowhere to lay his head." 59 To another he said, "Follow me." But he said, "Lord, let me first go and bury my father." 60 And Jesus said to him, "Leave the dead to bury their own dead. But as for you, go and proclaim the kingdom of God." 61 Yet another said, "I will follow you, Lord, but let me first say farewell to those at my home." 62 Jesus said to him, "No one who puts his hand to the plow and looks back is fit for the kingdom of God."
Luke 18:18–23
And a ruler asked him, "Good Teacher, what must I do to inherit eternal life?" 19 And Jesus said to him, "Why do you call me good? No one is good except God alone. 20 You know the commandments: 'Do not commit adultery, Do not murder, Do not steal, Do not bear false witness, Honor your father and mother.' " 21 And he said, "All these I have kept from my youth." 22 When Jesus heard this, he said to him, "One thing you still lack. Sell all that you have and distribute to the poor, and you will have treasure in heaven; and come, follow me." 23 But when he heard these things, he became very sad, for he was extremely rich.
Luke 9:1–6; 10
9 And he called the twelve together and gave them power and authority over all demons and to cure diseases, 2 and he sent them out to proclaim the kingdom of God and to heal. 3 And he said to them, "Take nothing for your journey, no staff, nor bag, nor bread, nor money; and do not have two tunics. 4 And whatever house you enter, stay there, and from there depart. 5 And wherever they do not receive you, when you leave that town shake off the dust from your feet as a testimony against them." 6 And they departed and went through the villages, preaching the gospel and healing everywhere...10 On their return the apostles told him all that they had done. And he took them and withdrew apart to a town called Bethsaida.
Luke 9:23–25
23 And he said to all, "If anyone would come after me, let him deny himself and take up his cross daily and follow me. 24 For whoever would save his life will lose it, but whoever loses his life for my sake will save it. 25 For what does it profit a man if he gains the whole world and loses or forfeits himself?
We are to give our lives over to this calling.
Exodus 2:1–2; Exodus 2:11–15; Colossians 3:18–24; 1 Peter 2:4–5
Exodus 2:1–2
Now a man from the house of Levi went and took as his wife a Levite woman. 2 The woman conceived and bore a son, and when she saw that he was a fine child, she hid him three months.
BIBLE VERSE
Exodus 2:11–15
One day, when Moses had grown up, he went out to his people and looked on their burdens, and he saw an Egyptian beating a Hebrew, one of his people. 12 He looked this way and that, and seeing no one, he struck down the Egyptian and hid him in the sand. 13 When he went out the next day, behold, two Hebrews were struggling together. And he said to the man in the wrong, "Why do you strike your companion?" 14 He answered, "Who made you a prince and a judge over us? Do you mean to kill me as you killed the Egyptian?" Then Moses was afraid, and thought, "Surely the thing is known." 15 When Pharaoh heard of it, he sought to kill Moses. But Moses fled from Pharaoh and stayed in the land of Midian. And he sat down by a well.
Colossians 3:18–24
18 Wives, submit to your husbands, as is fitting in the Lord. 19 Husbands, love your wives, and do not be harsh with them. 20 Children, obey your parents in everything, for this pleases the Lord. 21 Fathers, do not provoke your children, lest they become discouraged. 22 Bondservants, obey in everything those who are your earthly masters, not by way of eye-service, as people-pleasers, but with sincerity of heart, fearing the Lord. 23 Whatever you do, work heartily, as for the Lord and not for men, 24 knowing that from the Lord you will receive the inheritance as your reward. You are serving the Lord Christ.
1 Peter 2:4–5
As you come to him, a living stone rejected by men but in the sight of God chosen and precious, 5 you yourselves like living stones are being built up as a spiritual house, to be a holy priesthood, to offer spiritual sacrifices acceptable to God through Jesus Christ.
As Christians, our primary calling is to get better at dying.
DIGGING DEEPER DEVOTIONS
At some point each day take 5-10 min. and ask yourself…
What is God calling me to do?
How can I exhibit a Godly example throughout this next week In every circumstance I face? and
Why does God have me in the places I will walk into?
NOTE: Before each reading make it a point to take a moment and listen to 'Great are You Lord' by Shane and Shane, think about those questions and just be still before you begin.
Day 1
Read about Moses' birth - Exodus 1:22-2:10
Why was Moses' mother trying to hide him?
What kind of emotions did she most likely live with?
Has there been a moment where you may have felt the same; or feel like that now? Or do you feel nothing?
Take a minute and honestly let God know that out loud in prayer.
Day 2
Read of Moses' attempt to take charge his own way (Exodus 2:11-23)
Is there a time where you tried to force a decision?
Can you recall a moment where you did a task on you own?
Has there been a moment in your life where you made a mistake that everyone knew about? Or a mistake you feel uncomfortable to recall again?
Take a moment in prayer and ask God out loud how Moses' story can speak to you concerning that moment in your life.
Day 3
Read the complete story again along with this verse (Col. 3:23)
While Moses was away from all he had known, what was God doing?
What were Moses' People doing?
Is there a similarity between Moses and the Israelites then and you and the world now?
Stop and ask God...
If there is anything that may be bothering you that you don't need to worry about?
How you can do your best today at work, home, with your spouse, and alone?